#86/87 - July-Nov 2021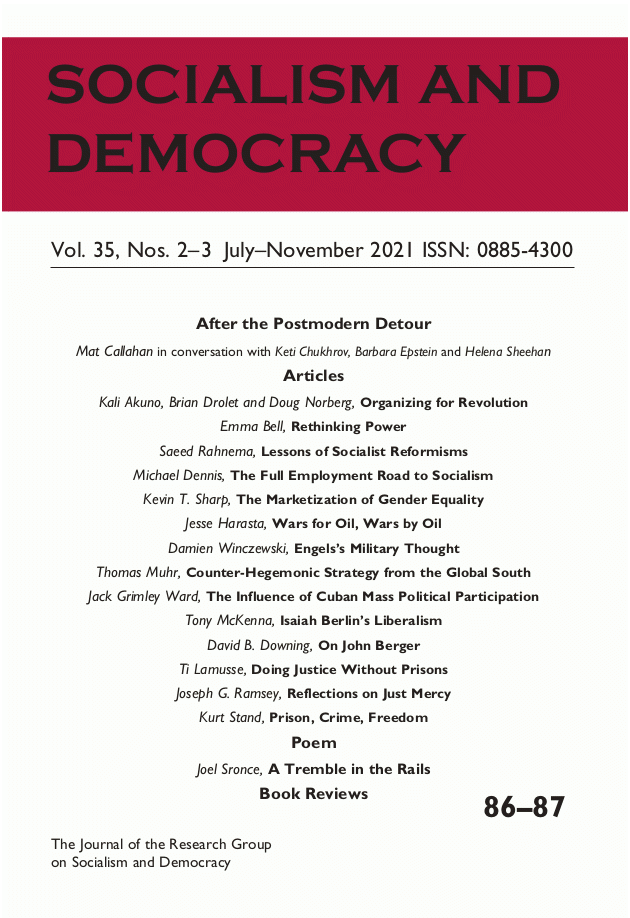 The full text of all articles are available on this website 18 months after the print publication date. They are currently available to subscribers on our publisher's website at https://www.tandfonline.com/toc/csad20/current where you can subscribe to S&D and/or order individual issues or articles.
After the Postmodern Detour
Of Wolves in Sheep's Clothing and the Damage Done
Barbara Epstein and Mat Callahan
What Is the Common Good?
Keti Chukrov and Mat Callahan
Thinking Systemically: Philosophy, Science, Materialism and Dialectics
Helena Sheehan and Mat Callahan
Articles
Shifting Focus: Organizing for Revolution, Not Crisis Avoidance
Kali Akuno, Brian Drolet & Doug Norberg,
Rethinking Power: Responding to the Crisis of Neoliberal Hegemony?
Emma Bell,
Lessons of Socialist Reformisms: Revisiting German, French, Swedish Social Democracies
Saeed Rahnema
The Full Employment Road to Socialism: The Job Guarantee Movement and the Challenge to Capitalism in the 1970s
Michael Dennis
The Marketization of Gender Equality: A Historical Perspective
Kevin T. Sharp
Wars for Oil, Wars by Oil: Understanding Petro-Autocracy and the 'New' Imperialism
Jesse Harasta
Engels's Military Thought: Historical Materialism and Modern Warfare
Damien Winczewski
Counter-Hegemonic Strategy from the Global South: A Pluri-scalar War of Position
Thomas Muhr 
'Popular participation in every essential measure:' The Influence of Cuban Mass Political Participation on State Economic and Labour Policy
Jack Grimley Ward
Alone with Berlin: The Infirmity of Isaiah's Liberalism
Tony McKenna
In "solidarity with the so-called 'backward'" – On John Berger
David B. Downing
Doing Justice Without Prisons: A Framework to Build the Abolitionist Movement
Ti Lamusse
Finding the Far Right, Leaving the Far Right
David Rovics and Matthew Heimbach
Never Throw Away the Key: Reflections on the Compassionate Radicalism of Bryan Stevenson's Just Mercy
Joseph G. Ramsey
Where the Spirit Meets the Bone: Prison, Crime, Freedom
Kurt Stand
Poem
A Tremble in the Rails
Joel Sronce
Reviews
Carl Boggs, Facing Catastrophe: Food, Politics, and the Ecological Crisis
Reviewed by Tracy Lassiter
Kim Stanley Robinson, The Ministry for the Future and Yanis Varoufakis, Another Now
Reviewed by Inez Hedges
Don Fitz, Cuban Health Care: The Ongoing Revolution
Reviewed by Allan Ainsworth
Steve Ellner, ed., Latin American Extractivism: Dependency, Resource Nationalism, and Resistance in Broad Perspective
Reviewed by Malik Fercovic Cerda
Dip Kapoor and Steven Jordan, eds., Research, Political Engagement, and Dispossession: Indigenous, Peasant, and Urban Poor Activisms in the Americas and Asia
Reviewed by Zachary T. King
Enzo Traverso, Revolution: An Intellectual History
Reviewed by Mat Callahan
Marcello Musto, ed., Karl Marx's Writings on Alienation
Reviewed by Nicolás Arenas
David B. Downing, Just Theory
Reviewed by Tracy Lassiter
Slavoj Žižek, A Left that Dares to Speak its Name: 34 Untimely Interventions
Reviewed by Jorge E. Cuélla
Mark S. Ferrara, American Community: Radical Experiments in Intentional Living
Reviewed by Joan Roelofs
Marcelo Vieta, Workers' Self-Management in Argentina: Contesting Neo-liberalism by Occupying Companies, Creating Cooperatives, and Recuperating Autogestión
Reviewed by Katherine Sobering
Heather Pool, Political Mourning: Identity and Responsibility in the Wake of Tragedy
Reviewed by Barbara H. Chasin
Joey Perr, Hands Up, Herbie!
Reviewed by Billy Lopez
Patrick Chura, Mike Gold: The People's Writer
Reviewed by Harry Targ
Fredric Jameson, The Benjamin Files
Reviewed by Paul Stasi
Mark Lause, Soldiers of the Revolution: The Franco-Prussian War and the Paris Commune
Reviewed by Daniel Egan
Ravi Malhotra and Benjamin Isitt, Able to Lead: Disablement, Radicalism and the Political Life of E.T. Kingsley
Reviewed by Paul Buhle
Inez Hedges, Staging History from the Shoah to Palestine
Reviewed by Roberta Salper
Notes on Contributors