Steve McGiffen, presente!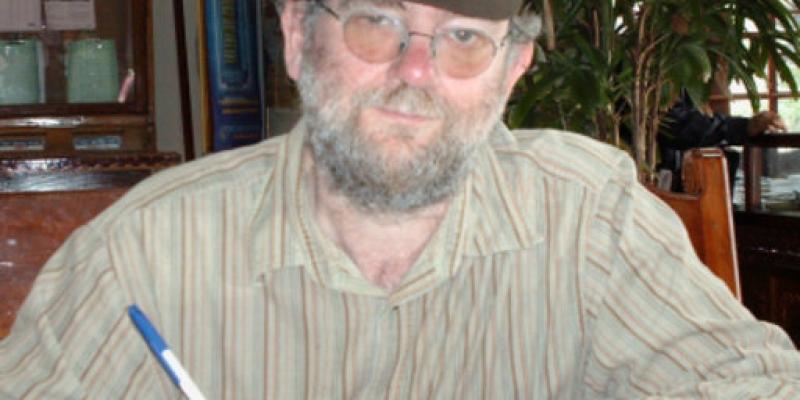 Steven McGiffen
 I want to honor Steve McGiffen, who died in August.
Steve was a regular contributor to S&D over the past decade, beginning with his organizing a special section in issue #56 (2011) entitled "Democracy vs Neoliberalism in the European Union." My collaboration and friendship with him date back to the huge May 1998 gathering in Paris, celebrating the 150th anniversary of the Communist Manifesto. Evoking the Manifesto's opening proclamation -- "A spectre is haunting Europe." -- Steve was promoting the glossy magazine he had founded and was producing in Brussels under the challenging title, Spectre.
No one could have been better suited for such a mission. Steve was born in 1954, into a working-class family in the north of England. He got a PhD in American history (spending several years in the US), but spent the last three decades of his life in continental Europe, first in Brussels and later in rural France, where he lived, together with his wife Marjorie (who is from the same hometown), in a house whose back half is a two-story cave. Their village (Bourré) sits over a vast underground hallway with columns and arches carved out of the same limestone.
For more about Steve's life, see his obituary in the British communist newspaper, The Morning Star. He played an important role in the Dutch socialist party and around the European Parliament. He also taught at the American Graduate School in Paris and wrote books -- on a variety of issues -- that were models of analytic journalism (I found especially useful his Biotechnology: Corporate Power versus the Public Interest, Pluto Press, 2005).
As for Spectre, it turned into the "spectrezine" website. As his S&D collection shows, Steve was deeply immersed in European affairs yet always skeptical about the European Union, which he saw as essentially a neoliberal project.
Steve was a person of captivating wit and vitality, at once rooted and cosmopolitan. I will miss him greatly.