#82 - March 2020
Movements at the Millennium: Seattle+20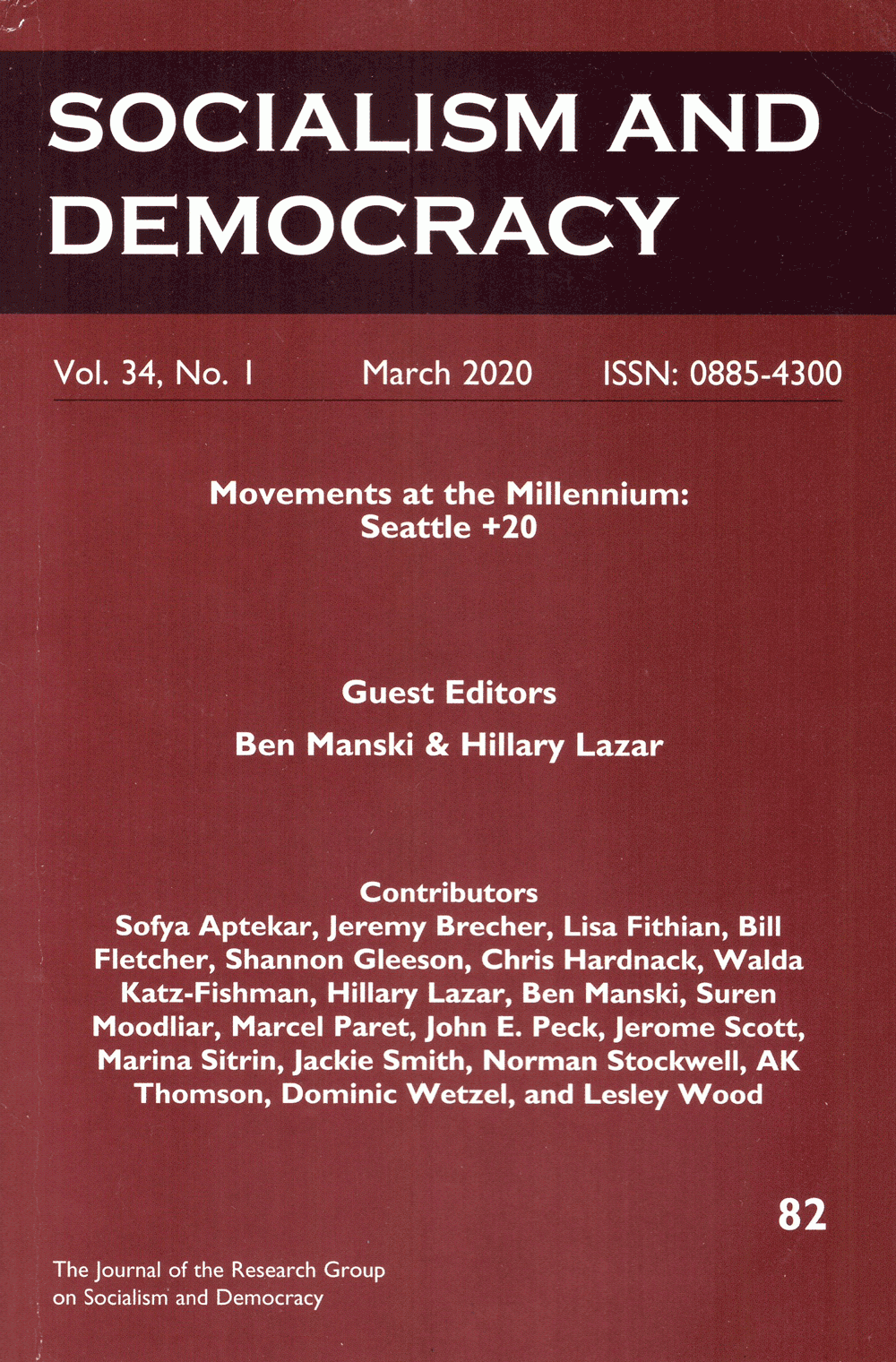 The full text of all articles are available on this website 18 months after the print publication date. They are currently available to subscribers on our publisher's website at https://www.tandfonline.com/toc/csad20/34/1 where you can subscribe to S&D and/or order individual issues or articles.
Introduction: Seattle + 20
The Millennial Turns and the New Period: An Introduction
Ben Manski, Hillary Lazar and Suren Moodliar
The Meaning of Seattle
"The Seattle Model"
Lesley Wood
The Prefiguration of Seattle: A Battle Many Years in the Making
John E. Peck
Our Seattle, Ourselves
Dominic Wetzel
"We Are Winning" -- Ten Theses on Politics After Seattle
AK Thompson
The Dimensions of the Millennial Struggles - Studies & Essays
Making Other Worlds Possible: The Battle in Seattle in World-Historical Contest
Jackie Smith
The Global Justice Movement in the US and the Anti-Neoliberal Master Frame
Chris Hardnack
DNA in Movement: Reflections on a New Form of Movements
Marina Sitrin
Capitalism and the Immigrant Rights Movement in the United States
Marcel Paret, Sofya Aptekar and Shannon Gleeson
Interviews
"Power in the Streets"
Lisa Fithian and Hillary Lazar
Indymedia and Media Activism at the Turn of the Millennium
Norman Stockwell and Ben Manskli
Seattle 1999, Creating a Two-Sided Battle
Jeremy Brecher and Suren Moodliar
Reflections on Organized Labor, the Black Radical Congress and Building a United Front
Bill Fletcher and Ben Manski
Another Road to Joining the Global Struggle; A Conversation on Race, Class, and Revolutionary Process in the US South
Walda Katz-Fishman, Jerome Scott and Hillary Lazar
Notes on Contributors